How it all began...
East from Rome, up and over the ridge of the Apennines and down the slope towards the Aegean Sea, is a small village called Ateleta. It's name comes from the Greek words, "a thele" which means without taxes, so named because in 1808 the land was given, by the king of Naples, to the peasants that had worked it under the previous aristocracy. Ateleta lies on a hill called Colie Sisto, in the valley situated beside the Sangro River, in the Province of L'Aquilla, Abruzzo, Italy. It was in this village, in 1858, that Bartolomeo Ranallo was born, the eighth child of Maria (D'Ascenzo) and Pasquale Ranallo. He emigrated to the USA in August of 1881. He married Paolina Guarnieri, the first child of Cathrina (Rodasta) and Vito Guarnieri in 1895 in the USA, Paolina having emigrated, with her parents and siblings, to the USA in the 1890s from Campo Fiorito, Sicily.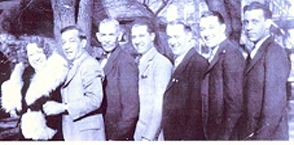 ...The Family Begins...
Bartolomeo and Paolina had their firstborn son, Pat, on March 16, 1896. Next was Joe on March 12, 1898, followed by Mary, their only daughter, born on April 23, 1901. Next to arrive was Vito, born on September 19, 1904, then Henry in 1908 on August 5th. The final son, George, was born March 5, 1910. Soon after George's birth, when he was only five years old, Paolina died on February 18, 1916, leaving the raising of her children to her husband and daughter, Mary, who was only 15 years of age. She was their surrogate Mother from that date on through their collective lives.
...And Grows!
This is our "COUSIN'S" group. We breakfast on the first Wednesday of each month and discuss family related things. We are a diverse group of individuals that are bound by the ties we have in common. The cousins shown are in the same order as their fathers in the previous picture. (Since Joe and Mary were childless there are only four sets of "COUSINS"). From left to right are: George Ranallo, (son of George Ranallo); Pauline (Ranallo) Privitera, Gerry Ranallo, Marie (Ranallo) Sproferra, Bud Ranallo, and George Ranallo (all children of Pat Ranallo); Barbara (Ranallo) Hoffman, Pauline (Ranallo) Martin and Mary Vee Ranallo (all children of Vito Ranallo); Joe Ranallo, (son of Henry Ranallo).